OK.  So it may not be as big a deal to you as it is to us.  But it is HUGE to us, so it must be at least pretty big to you…Right?  Hey, don't sweat it.  It isn't some slicked-up $20,000 project, but we think we did a pretty darn good job of it.
Watch the video (4-1/2 min.) and tell us what you think. Enjoy!!
HOBIE 16 WORLD CHAMPIONSHIPS
MY SAIL is excited to announce we will be sponsoring a youth at the Hobie 16 Youth World Championships Nov. 6-8 at the South Seas Island Resort on Captiva Island just outside of Ft. Myers, FL.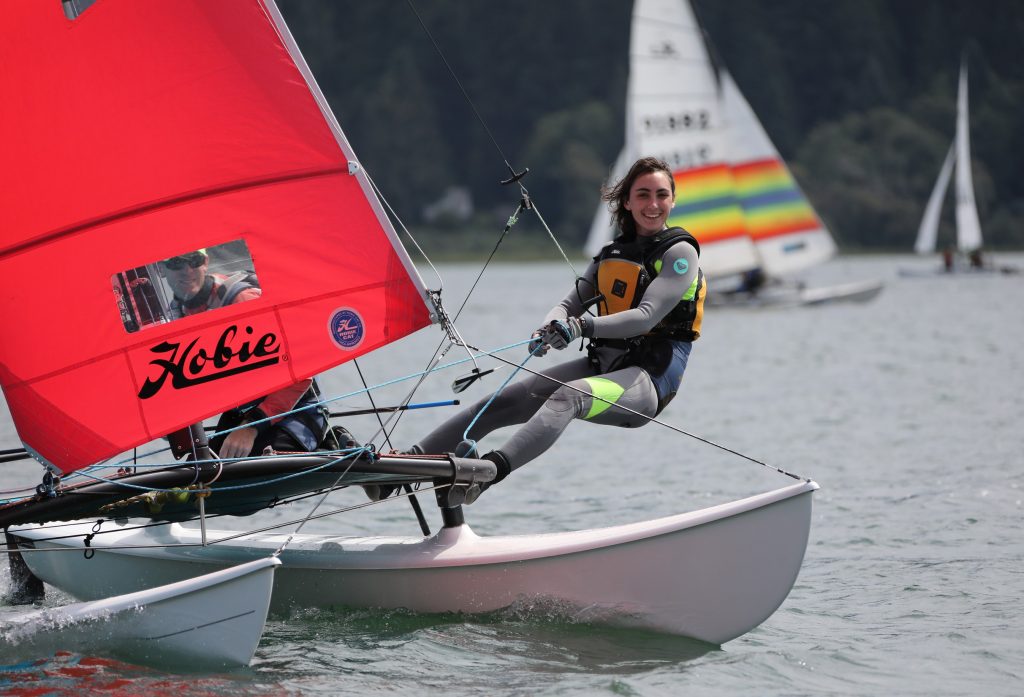 Jaedon Bott (on the left) has signed up to skipper with (adult) Laura Sullivan (on the right) in the Women's Worlds, and take a shot at becoming a World Champion!  She was trying to find another youth in order to compete in the Youth worlds.  But alas, the event is in the middle of the school year.
Jaedon is a rising star on the Hobie 16 circuit.  She crewed for our Program Director, Tim Webb, this past season, and propelled Tim to his/their best season yet, finishing 16th at the North American Championships last month.  Jaedon volunteerred at our Quinault sail camp this summer.  Jaedon is super athletic and smart, and with Laura, will take on anything and anyone thrown at them.
Laura needs little introduction in the Hobie circle.  Last month she was presented the Carlton Tucker Sportsmanship Award for her contributions in growing the sport.  Laura is also a director of MY SAIL and has been crewing on the Hobie 16 for over 19 years.  At the Worlds, Jaedon will helm and Laura crew.
The format at Worlds is a round-robin where the teams sail a different boat each race.  Mark roundings at this level of competition are usually crowded, and competition is fierce.  Currently there are 25 teams registered for the Women's championship.  It will be compelling to watch.   https://hobieworlds.com/  Let's root Jaedon and Laura on.
Smile!
Do you buy stuff on Amazon?  Now you can shop on Amazon AND support MY SAIL.
That's because MY SAIL receives 0.5% of all of your Amazon purchases when you sign up for the program.  Even better, it doesn't cost you one cent!  Items are the same cost on smile or not.
Here's how you sign up: Go to https:smile.amazon.com and sign in.  Go to Your Account from the navigation at the top of any page, and then select the option Change your Charity under Shopping programs and rentals.  Search for MY SAIL or MulSearch tihull Youth SAIL Foundation and select.  It's that easy.
Shop knowing that while you are buying stuff you would ordinarily buy, you are also helping get more kids out on the water!  Got that warm, fuzzy?  Good!